We are only 15-minute car ride from the Ten Ten Viewpoint. This viewpoint is great as you can see the city of Castro. It is also an archaeological site of the settlement of the Chono people, with 5,000 years old. In short, this is a magical site.
ℹ️ Consejo rápido
Si necesitas hospedaje en Chiloé y quieres tener la experiencia de vivir en un palafito, recomendamos alojarse en Palafito Hostel. Es un hostel seguro, con ambiente de diseño único, Wi-Fi, cocina y desayuno incluido. Ideal para todos los viajeros.
Mirador Patrimonial de Castro
El mirador Ten-Ten proporciona un panorama completo de la ciudad de Castro, el puerto, el sector de la bahía y el desarrollo urbanístico de la misma, por lo que es el principal mirador de Castro.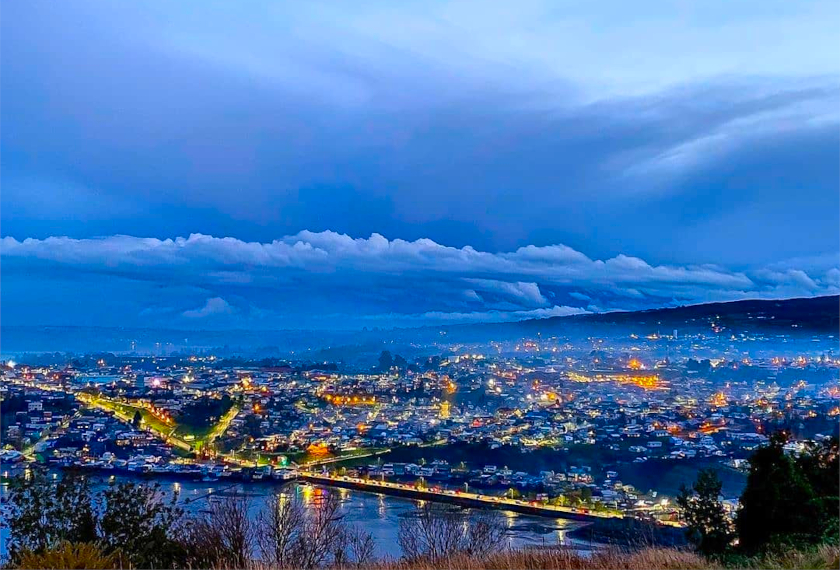 Allí existe un sitio arqueológico del asentamiento del pueblo Chono, de 5.000 años de antigüedad. Hay cuatro esculturas alusivas al pueblo Chono (dalcas, puntas de flechas, conchas), diseñadas por los artistas chilenos Carla Lepez y Christian García. La obra fué premiada en la XVI Bienal de Arquitectura de Santiago en el 2008. Los trabajos para el rescate y protección del sitio incluyendo la intervención arquitectónica y artística dieron origen al Mirador Patrimonial de Castro.
Cerca del mirador, se encuentra el balneario y costanera Ten Ten. También allí se han encontrado piedras correspondientes al pueblo Chono, que se usaban de lanza para cazar y que servían de armas para su defensa.
¿Cómo llegar al Mirador Ten-Ten desde Castro?
Si lo deseas, puedes ir desde el centro de Castro hasta el Mirador Ten-Ten en el Autobús L2-4. El autobús tomará la Ruta 5 Sur. Puedes dar aviso al conductor que irás al mirador, y te indicará cuando bajar. Desde allí caminas 30min aproximadamente, dependiendo del ritmo de la caminata.
Ubicación del Mirador Ten-Ten